From staff reports
The new state budget steers $47.57 million to Johnston County.
Here are the recipients and how they plan to spend the money:
Town of Clayton — $25 million for the town's new sewage-treatment plant.
The I-95/I-40 Crossroads of America Economic Development Alliance — $12.3 million. That money will help build a workforce training center in Four Oaks and renovate an old school in Dunn.
Town of Princeton — $1.5 million for sewer improvements and $50 for fire department needs.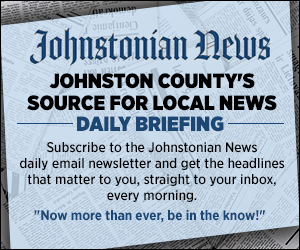 Johnston Community College — $2.97 million for the firearms range at Howell Woods Environmental Learning Center and $100,000 for a digital course-scheduling pilot.
Johnston Regional Airport — $3 million to build a hangar.
Eastern Triangle YMCA — $100,000 for capital needs and equipment.
County of Johnston — $50,000 for the Clerk of Court's office to improve information technology.