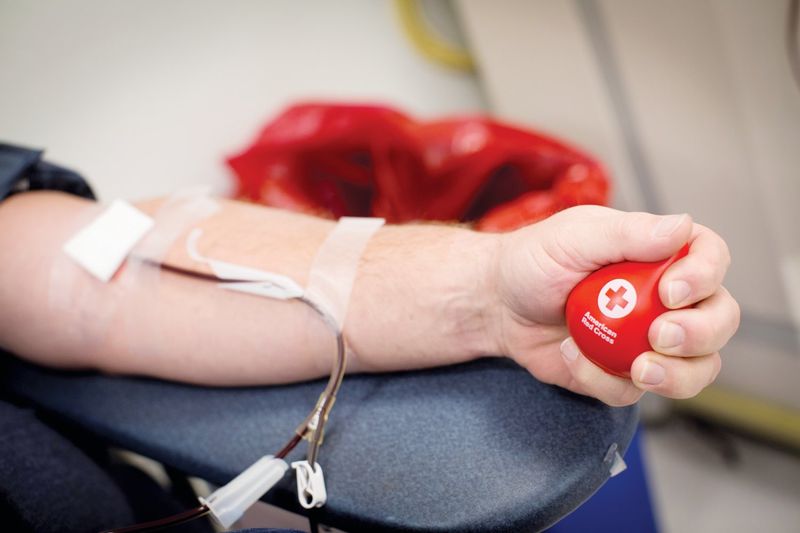 The American Red Cross and Pro Football Hall of Famer and blood donor Peyton Manning are asking people to score big for patients in need — while getting a chance to win a trip to Super Bowl LVII in Arizona — by giving blood or platelets.
January is National Blood Donor Month, a time to celebrate those who roll up a sleeve to keep blood products stocked for hospitals providing critical care. As the busy holiday season winds down and the threat of severe winter weather and seasonal illness cases continue to rise, January can be a tough time for donors to make and keep appointments.
"If everyone does their part and we collectively commit to donating blood, we can stack up more wins for hospital patients who are counting on us," Manning said in a Red Cross news release. "A single individual is certainly impactful, but a whole team of people coming together to donate has an even greater effect."
In partnership with the National Football League, those who come to give blood, platelets or plasma from Jan. 1-31 will be automatically entered to win a trip for two to Super Bowl LVII in Arizona, including access to day-of, in-stadium pregame activities, tickets to the official Super Bowl Experience, round-trip airfare to Phoenix and three-night hotel accommodations, plus a $500 gift card for expenses. Terms apply. Visit RedCrossBlood.org/SuperBowl for details.
HOW TO DONATE
Simply download the American Red Cross Blood Donor app, visit RedCrossBlood.org, call 1-800-RED CROSS (1-800-733-2767) or enable the Blood Donor Skill on any Alexa Echo device to make an appointment or for more information. 
All blood types are needed to ensure a reliable supply for patients. A blood donor card or driver's license or two other forms of identification are required at check-in. Individuals who are 17 years old, 16 with parental consent where allowed by state law, weigh at least 110 pounds and are in generally good health may be eligible to donate blood. High school students and other donors 18 and younger also have to meet height and weight requirements. 
Blood and platelet donors can save time at their next donation by using RapidPass to complete their pre-donation reading and health history questionnaire online, on the day of their donation, before arriving at the blood drive. To get started, follow the instructions at RedCrossBlood.org/RapidPass or use the Blood Donor app. 
Blood drives are scheduled in the following locations.
MIDDLESEX
• Jan. 24 — 1:30-6 p.m., Stony Hill Free Will Baptist Church, 9649 Stony Hill Church Road.
NASHVILLE
• Jan. 17 — 1:30-5:30 p.m., Nashville Methodist Church, 209 E. Washington St.
RED OAK
• Jan. 4 — 2-6 p.m., Red Oak Volunteer Fire Department, 7951 Red Oak Blvd.
ROCKY MOUNT
• Jan. 13 — 1:30-6 p.m., Cornerstone Independent Baptist Church, 1481 Beechwood Drive.
• Jan. 16 — 2-6 p.m., West Edgecombe Ruritan Club Building on N.C. 43 North.
• Jan. 18 — 1-6 p.m., Benvenue Country Club, 100 Southern Blvd.
• Jan. 21 — 10 a.m. to 2 p.m., New Morning Star Church of Christ, 225 S. Glendale Drive.
• Jan. 23 — 1:30-6 p.m., Bethlehem Baptist Church, 305 S. Halifax Road.
• Jan. 24 — 1:30-6 p.m., West Mount Volunteer Fire Department, 7955 West Mount Drive.
• Jan. 31 — 10:30 a.m. to 4:30 p.m., Arts Education Building, 344 Falls Road.
TARBORO
• Jan. 9 — 2:45-7 p.m., St. James United Methodist Church, 211 E. Saint James St.
WILSON
• Jan. 11 — 2-6 p.m., First Christian Church, 207 Tarboro St. NE.
• Jan. 18 — 11 a.m. to 5 p.m., Wilson Medical Center, 1705 Tarboro St. S.
• Jan. 26 — 2-6 p.m., Tabernacle Baptist Church, 1815 Airport Blvd. W.
• Jan. 27 — 8 a.m. to 1:15 p.m., Beddingfield High School, 4510 Old Stantonsburg Road.
• Jan. 28 — 8:30 a.m. to 12:30 p.m., American Legion Wilson Post 13, 2331-1 U.S. 301 S.
LUCAMA
• Jan. 10 — 3-7 p.m., Temple Wilson, 7369 U.S. 301.